Upcoming keynotes
Feedback for the longer term: Developing student feedback literacy, AHE Manchester, June 28, 2018.
https://aheconference.com/transforming-feedback-research-and-development-conference-2018/
Peer feedback in second language writing: Potentials and challenges, Taipei, March 16-17, 2018.
20th International Conference on TEFL & Applied Linguistics, Ming Chuan University, Taiwan.
---
New project funded by RGC-General Research Fund 2017-18
Theorizing feedback processes in higher education
New recognition as Principal Fellow of the Higher Education Academy (PFHEA)
---
New Forthcoming Chapter on Exemplars
---
Published January 2017
http://www.springer.com/gp/book/9789811030437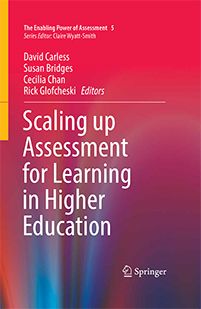 Book review:
Joughin, G. (2017). [Review of the book Scaling up assessment for learning in higher education, by D. Carless], Assessment & Evaluation in Higher Education, DOI: 10.1080/02602938.2017.1328815.
---
Excellence in University Assessment published by Routledge.
Details at: https://www.routledge.com/Excellence-in-University-Assessment-Learning-from-award-winning-practice/Carless/p/book/9781138824553
Book reviews: